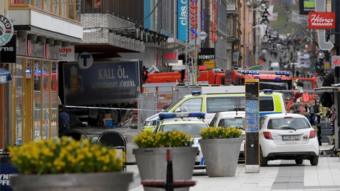 REUTERS*The lorry crashed into the Ahlens department store in the city's centre
A lorry has smashed into a store in central Stockholm, killing at least three people, Swedish police say.
Several people were also injured in the incident on Drottninggatan (Queen Street), one of the city's major pedestrian streets.
Swedish Prime Minister Stefan Lofven said everything pointed to an act of terrorism and that one person had been arrested. He gave no details.
The firm that owns the lorry said it had been hijacked earlier in the day.
The crash happened at the Ahlens department store just before 15:00 local time (13:00 GMT).
Swedish brewery Spendrups said its lorry had been stolen on its way to a restaurant delivery.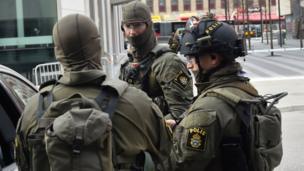 AFP/ GETTY*Special police forces work at the scene
Shots have also reportedly been fired in another part of the city according to report by BBC.

It is not clear whether the two incidents are connected.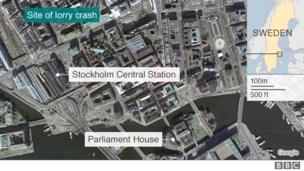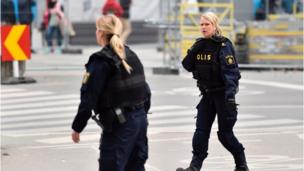 AFP/GETTY IMAGES*Swedish police swarmed the area
Witnesses say the lorry drove into the front window of the Ahlens store.
"There is total confusion. Many people are totally shocked," eyewitness Leif Arnmar told Swedish national broadcaster SVT.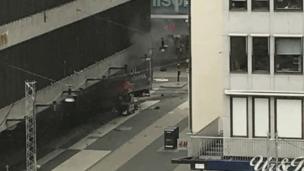 AFP*Images showed the lorry having ploughed into the building
Source: BBC