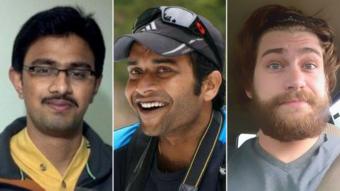 FACEBOOK*From left: Srinivas Kuchibhotla, who died; Alok Madasani, who was injured; and Ian Grillot, also injured
India has expressed shock after the fatal shooting of an Indian national in the US, amid reports that the attack may have been racially motivated.
Srinivas Kuchibhotla died shortly after Wednesday's attack at a bar in Olathe, Kansas. His friend Alok Madasani, also from India, and an American were hurt.
Adam Purinton has been charged with premeditated first-degree murder.
The killing dominated news bulletins in India and social media, where some blamed Donald Trump's presidency.
Mr Kuchibhotla's wife, Sunayana Dumala, described her husband as a "loveable"
Speaking at a news conference, she described the US as "the country that he loved so much" and called the shooting a "hate crime".
White House spokesman Sean Spicer said that any loss of life was tragic but that it would absurd to link what had happened to Mr Trump's rhetoric.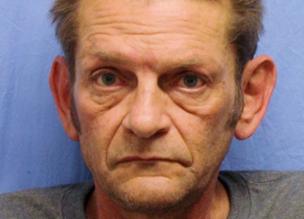 *AP*Adam Purinton was arrested five hours after the shooting
The FBI is now investigating possible motives for the crime at Austins Bar and Grill, with race among them. Witnesses said that just before opening fire the gunman shouted: "Get out of my country."
A barman also told local media that the attacker used racial slurs before the shooting on Wednesday night.
Mr Kuchibhotla, 32, and Mr Madasani, also 32, were engineers at US technology company Garmin. Both studied initially in India and later for postgraduate degrees in the US.
Mr Madasani has now been released from hospital.

The other injured man, Ian Grillot, 24, said he was shot while intervening to try and stop the violence.
Speaking from his hospital bed, he brushed aside suggestions that he was a hero.
"I was just doing what anyone should have done for another human being," he said.
The suspect allegedly fled on foot and was arrested five hours later at a restaurant just over the state border, 80 miles (130km) away in Clinton, Missouri.
He told a bartender there that he had just killed two Middle Eastern men, the Kansas City Star reports, without naming its sources.

Mr Kuchibhotla was from the Indian city of Hyderabad. His parents, Madhusudhan Rao and Vardhini Rao, were too stunned by news of his death to comment, the Associated Press reported.
Mr Madasani's father, Jaganmohan Reddy, called it a hate crime.
After the shooting, Indian actor Siddharth tweeted to his 2.6m followers: "Don't be shocked! Be angry! Trump is spreading hate. This is a hate crime! RIP #SrinivasKuchibhotla."
Source: BBC