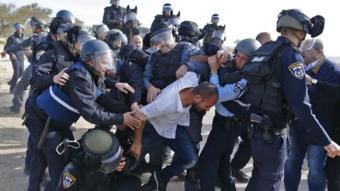 AFP*Locals accused police of using excessive force to remove the protesters
Two people have been killed in southern Israel during a confrontation between police and Bedouin villagers over the demolition of illegally built homes.
Police said an officer was killed in a car-ramming attack in Umm al-Hiran, in the Negev desert, and that the Israeli Arab driver of the car was shot dead.
They said the driver was active in the Israeli Islamic Movement.
But locals said he was a teacher who had only wanted to talk to officials to try to stop the demolitions.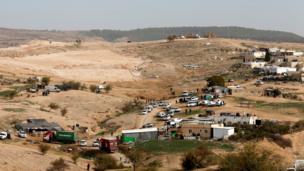 *REUTERS*Israel's Supreme Court has rejected an argument that a Bedouin tribe has rights to the land
There have been many house demolitions in Umm al-Hiran as a new, mainly Jewish town is built on the site, our correspondent adds.
The Israeli Supreme Court rejected an argument that members of a local Bedouin tribe had rights to the land.
The army moved them to Umm al-Hiran from their original village in the 1950s, a few years after the State of Israel was created.
They have now been told to move to new housing elsewhere.
Source : BBC