Bangladesh has declared two days of national mourning for those killed when Islamic militants stormed a cafe in the capital, Dhaka.
Twenty hostages, most of them foreign, were killed in the attack. Two police officers also died and 30 were injured.
Bangladeshi commandos rescued 13 people after a 12-hour siege, killing six gunmen and arresting another.
Nine Italians, seven Japanese, one US citizen and an Indian were among the dead. One Italian is unaccounted for.
Bangladesh's home minister said on Sunday that the attackers were not from the so-called Islamic State group, but belonged to a local militant group, which has been banned for more than a decade.
"They are members of the Jamaeytul Mujahdeen Bangladesh," Asaduzzaman Khan told the AFP news agency. "They have no connections with the Islamic State."
IS had earlier released photographs of the alleged attackers posing in front of a black IS flag.
Meanwhile, fresh accounts from survivors have emerged.
Argentine chef Diego Rossini told how the gunmen burst into the Holey Artisan Bakery on Friday evening with bombs and machine guns.
"I can't still believe this happened," he said.
"It was like a movie, they pointed their guns at me and I could hear shots passing by. I was very, very afraid."
He said he escaped by running to the cafe terrace and jumping on to another building.

Nine Italians named by the Italian foreign ministry as: Cristian Rossi; Marco Tondat; Nadia Benedetti; Adele Puglisi; Simona Monti; Claudia Maria D'Antona; Vincenzo D'Allestro; Maria Rivoli and Claudio Cappelli
Seven Japanese. Five men and two women, four of whose names have been released by Japanese officials: Koyo Ogasawara, Makoto Okamura, Yuko Sakai and Rui Shimodaira
Two Bangladeshis named in national media as Faraaz Ayaaz Hossai, a student at Emory University in the US, and Ishrat Akhond
US citizen Abinta Kabir, also a student at Emory University
One Indian Tarushi Jain, 18, who was a student at the University of California, Berkeley


Italian businessman Gianni Boschetti had stepped into the cafe's garden to take a phone call when the attack began.
He threw himself into some bushes and then escaped. His sister-in-law told Italian television that he went from hospital to hospital looking for his wife only to find she was among those killed.
The militants are reported to have tortured and killed any of the hostages who could not recite a verse from the Koran.
An army spokesman said the victims had been "brutally" attacked with sharp weapons.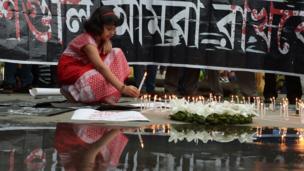 DIBYANGSHU SARKARI*Candles were lit for the victims in the Indian city of Kolkata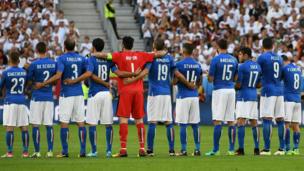 AFP*The Italian football team stood in silence for the victims before their match against Germany in Bordeaux, France
Announcing the two days of national mourning, Bangladeshi Prime Minister Sheikh Hasina vowed to fight terror attacks in the country.
"Anyone who believes in religion cannot do such acts," she said. "They do not have any religion, their only religion is terrorism."
The SITE Intelligence Group said the images released by IS identified the attackers by noms-de-guerre indicating they were Bangladeshi.
A statement on IS's self-styled Amaq news agency said militants had attacked a restaurant "frequented by foreigners".
Bangladesh has recently suffered a spate of murders of secular bloggers, gay activists, academics and members of religious minorities, blamed on Islamist militants.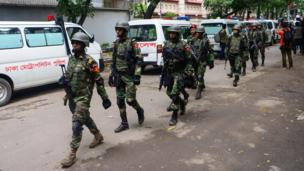 AFP*Troops and police have sealed off the area where the siege took place.
Source: BBC