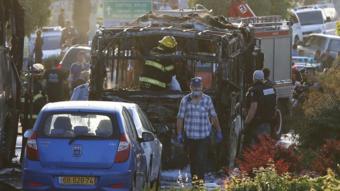 *Reuters*A media gag order is limiting reporting on the investigation into the bus bombing
The Palestinian Islamist group Hamas says one of its members was behind Monday's bus bombing in Jerusalem.
Hamas issued a statement on Wednesday night following the death of a young Palestinian man who succumbed to the injuries he sustained in the attack.
Hamas and Palestinian officials named him as Abdul Hamid Abu Srour.
Israeli authorities have not yet confirmed whether they are treating the bombing - which injured another 20 people - as a terrorist attack.
A media gag order is limiting reporting on the case.
'Martyr'
An Israeli hospital that treated casualties from the bombing said one of the two people who were admitted in a serious condition had died at 19:00 (16:00 GMT) on Wednesday.
Shaare Zedek Medical Center spokeswoman Shoham Ruvio said the man had lost both legs in the explosion, and had undergone multiple operations.
The Palestinian health ministry identified him as Abdul Hamid Abu Srour, a 19-year-old from the Aida refugee camp outside Bethlehem in the occupied West Bank.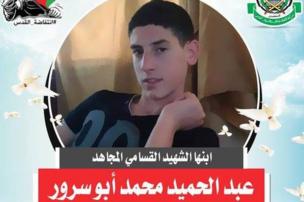 *A Hamas poster described Abdul Hamid Abu Srour as a "martyr"
Palestinians paid their condolences to members of his family in the camp, where posters put up by Hamas hailed him as a "martyr", AFP news agency reported.
Hours after the bombing, Israeli Prime Minister Benjamin Netanyahu linked it to the wave of stabbing, shooting and car-ramming attacks by Palestinians and Israeli Arabs over the past six months that have left 29 Israelis dead.
About 200 Palestinians - mostly attackers, Israel says - have also been killed in that period.
The assailants who have been killed have been shot dead either by their victims or by security forces as they carried out attacks. Some attackers have been arrested.
Other Palestinians have been killed in clashes with Israeli troops.
Source: BBC